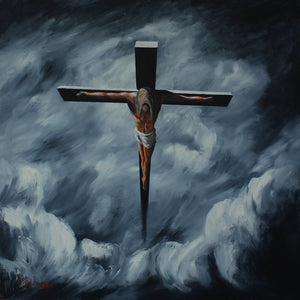 J P Mclaughlin Art
Good Friday by J P McLaughlin
Step into a world of profound beauty and spirituality with "Good Friday," an exquisite piece of art that captures the essence of the crucifixion and ascension of Jesus of Nazareth. This original acrylic painting on board measures 24 x 24 inches, showcasing the intricate details and emotions portrayed by the talented artist.
Unframed, this artwork allows you the freedom to choose a frame that perfectly complements your personal style and space. With free delivery within the UK, you can experience this captivating artwork in all its glory without any additional cost.
Rest assured, "Good Friday" comes with a certificate of authenticity, guaranteeing its originality and adding value to your collection. Whether you are an art connoisseur seeking to enhance your collection or a devout individual longing for a powerful visual representation of faith, this remarkable piece is sure to leave an indelible impression.
Don't miss out on the opportunity to own a truly awe-inspiring work of art. Add "Good Friday" to your collection today and let its timeless beauty transport you to a realm where art and spirituality merge seamlessly.
.  Your original art is shipped in a custom made wooden packing case and can be tracked to your door and must be signed for.
Good Friday – What is it?
Good Friday is observed on the Friday that proceeds Easter Sunday (also called Resurrection Sunday). It is a day when people remember Jesus' death on the cross. Many people, mostly Christians, celebrate this day by attending a Good Friday service where they read the biblical accounts of Jesus' death on the cross.
---
More from this collection